Please call to schedule service at this time.

Due to the current situation with the Covid-19, we ask that if any of the following apply to you, please do not schedule service at this time:

You are in any way experiencing any symptoms of illness.
You have been in close contact with someone experiencing symptoms of illness.

You have traveled by plane in the last two weeks.
Your service can wait until a later date.
If your vehicle has a safety-related problem, such as a recall, you may schedule it.  If your vehicle is past-due for maintenance or inspection and you are concerned about the safety of your vehicle.
Due to the government regulations being passed, it may be possible that we have to close without notice.  We recommend calling in advance to make sure we are still open.

Thank you for understanding.  Our top priority is the safety of our staff and our customers.  We remain open to support the many workers who are performing "life-sustaining" roles.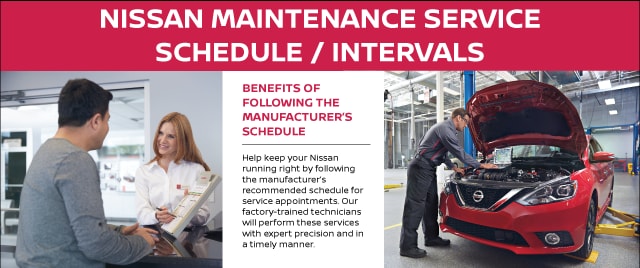 When you use our online Service Scheduler you can see exactly what the manufacturer recommends for their Maintenance Service Schedule, try it out!
Take advantage of Specials, Discounts and Coupons by clicking on the buttons above to see all the different ways that Moyer Nissan helps you save money.

If your car won't start, it's usually at the most worst possible moment and you're looking for a fast solution. Moyer Nissan can help diagnose and repair most of the common problems which can prevent your car from starting.
The three most common reasons that your car won't start are:
1 - 
Your spark plugs need replacing. 
Spark plugs are part of your ignition system and play a major role in your vehicle's ability to start and run properly. If your car's engine cranks as if it's trying to start, but won't turn fire, this is a sign that your spark plugs 
are possibly in need of replacement. 
What can you do about it? Contact Moyer Nissan and schedule an appointment.
2 -
 Your fuel injection system may need servicing.
 Fuel injectors are your engine's fuel delivery system. If your car starts and immediately dies, the solution may be a fuel injection service or a fuel injector(s) replacement.
What can you do about it? Contact Moyer Nissan and schedule an appointment.
3 - 
You might have a dead battery. 
If you don't have the convenience of automatic headlights or perhaps your interior dome light was left on overnight, your battery 
might have drained itself out of power. You'll know your battery is dead if you put the key into the ignition, turn it and nothing happens. You may hear a click, or just silence. If this is the case, you can get a jump for a kindly person or request professional roadside assistance. Moyer Nissan also sells replacement batteries at a very affordable price.
What can you do about it? Contact Moyer Nissan and schedule an appointment.